Sat, 14 January 2017
SS 273: Cybersecurity for our Naughty Bits, aka: Bring on 2017
We've been overdue for for a rapprochement with one of our favorite past topics: Privacy and Security in Swinging & Polyamory.The team of Mister Pent and Dylan Thomas put together information about securing yourself on the internet that a panel also including Dr. Liz Powell, Mike Joseph, and Cooper S. Beckett could discuss, digest, and put into action. In the age of our ability to connect anywhere and anytime, share information easily, and be as open as we want to be, it's important we arm ourselves with the knowledge necessary to make good decisions about what we put online and the information required to raise our level of computer and internet security.
As you listen, don't forget to tweet at #sspodcast and feel free to ask questions of @MisterPent and @DylanTheThomas!
We're sponsored by Castle Megastore, a one stop shop with everything you could want, from wand vibrators, to harnesses, to lube and condoms, to a complete suite of BDSM equipment including sex furniture. If you use the promo code SWINGSET at check out you can save 20% on your order.
While we are definitely going to put together ebook / guide on cybersecurity for perverts, we wanted to list some of the resources we discussed during the podcast here:
On Two-Factor Authentication
When enabled, two-factor authentication (or 2FA) can surface as a "we don't recognize this device" message sent to an email address or a mobile phone number, or it can refer to an installed mobile app or a physical security token. You can find a list of websites that support 2FA here: https://twofactorauth.org/
In the meantime if you have a Google account, or have logins on sites like Dropbox, Lastpass, or Microsoft, go grab the Google Authenticator app. If you're a steam gamer, grab the Steam app and enable Steam Guard.
On Passwords
Securityinabox.org has a lot of great contnet with tools and tactics for digital security, they have a particularly good guide on creating, maintaining, remembering, and recording secure passwords, including with a password manager.
XKCD's comic on Password Security that we love: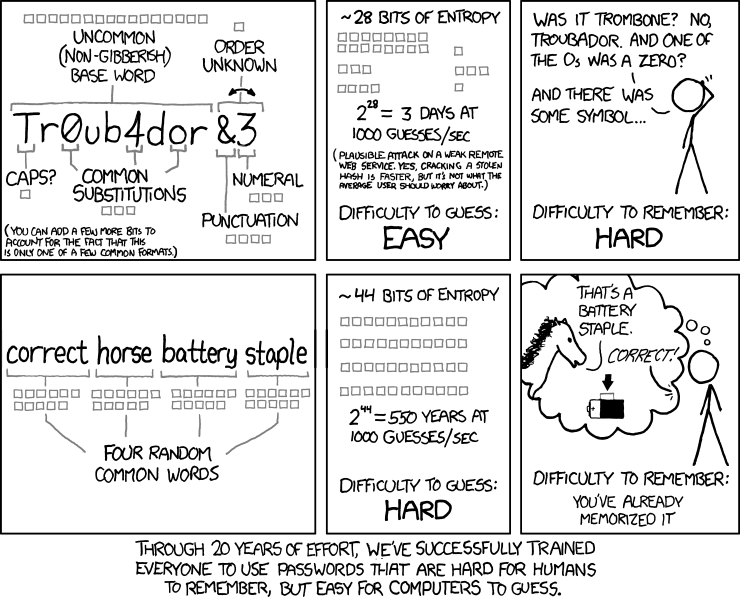 On Password Managers and Sharing Passwords:
Mister Pent, Cooper S. Beckett, and Dylan Thomas use Lastpass. Lastpass allows you to have a single set of passwords securely accessible over multiple devices and over the web, while setting up two factor authentication to limit access. It includes web browser extensions to automatically log you into sites and an Android app that does the same, depending on desired level of ease of use. It also allows you to share sets of passwords secureiy and simply with other people.
Dylan Thomas also uses mSecure synchronized to a Dropbox account. mSecure has mobile and computer apps. It's not as nice or feature filled as Lastpass, but it's a little extra hassle for a lot of extra security for the most sensitive of passwords.
If you need to share a temporary password with someone you can use OneTimeSecret. You create an a self-destructing link that disappears once it's accessed or once a certain amount of time passes.
On using VPNs:
You can't always trust the access to the internet you have, whether it's because you're in an airport on free airport wireless or a coffee shop or because you're travelling. Sometimes you may just want to tune into BBC Radio 5 using their iPlayer and you happen to not live in the Commonwealth. VPNs can keep your traffic secure when you can't trust your connection, with the added benefit of giving you choice on what country your traffic exits so you can use region specific resources.
Dylan Thomas uses BlackVPN. Mister Pent and Cooper S. Beckett use Private Internet Access.
Both can support simultaneous connections to cover multiple devices at once, and both allow multiple country exit points It has guides for usage on Windows, OS X, Linux, Android and iOS.
On Encrypting your Devices using Passwords or Biometric Authentication:
If you don't use a password, pin code, or thumbprint on your mobile devices, set one up! Modern Android and iOS based phones will automatically encrypt your device or give you the option to once you've set a password. While a six digit pin code or better is best, anything is better than nothing. Just Do It.
On Encrypting your Computer with Full Disk Encryption!
If you have a maching running a Pro version of Windows, use Bitlocker. Windows 7 ||| Windows 10
If you are running any other version of Windows, use Veracrypt. Securityinabox.org has a great guide on using Veracrypt to encrypt an external drive or your entire computer.
If you're running MacOS, Backblaze (the Cloud Storage company) has a comprehensive FileVault usage guide, though Apple's isn't so bad.
If you're running Linux you probably don't need our assistance. *grin*
On Backing up your data & Encryption in the Cloud:
One of the biggest risks to your data is physical failure or destruction of your devices. While services like Google Drive, iCloud, Dropbox and Box give us places to put our files in a pretty secure way, information stored on those services can be accessed and recovered by the services themselves in case of an investigation or subpoena. We recommend Backblaze as they encrypt data at rest and support two factor authentication.
On Communicating Securely:
We recommend using Signal Private Messenger, which includes iOS and Android apps and a Chrome extension and supports private messaging and calling.
Whatsapp supports end-to-end encryption. With Facebook Messenger you can enable secret conversations.
We suggest never sending sensitive information over email.
On Social Media:
Check out SecurityInABox.org's guide to security and privacy on social networking sites.
On Browsing Secureiy:
Drive-by malware downloads and poisoned ad networks, or shady looking porn sites, can mean you may pick something up while browsing the internet, often through no fault of your own. Most of us use both Google Chrome and Mozilla Firefox to browse the web, each for different sets of accounts (Multiple Google Accounts!) and with different sets of extensions installed to help protect ourselves.
Mister Pent prefers Ghostery.
Dylan Thomas uses Adblock Plus with Google Chrome, and NoScript on Mozilla Firefox.
For ultimate browsing privacy, the Tor Browser is a good option.
Leave us a review and a five star rating on iTunes! Leave us a review and a five star rating on Stitcher! Subscribe to us on Youtube! Android Users: Download and review our Android App!
Leave us a comment on this post or at contact@lifeontheswingset.com or leave us a voicemail at 573-55-SWING (573-557-9464). Find Cooper on Twitter @CooperSBeckett, Dylan on Twitter @DylanTheThomas, and Ginger on twitter @GingerNTheProf.
You can Cooper's novel about swinging, A Life Less Monogamous, at alifelessmonogamous.com or his memoir My Life on the Swingset: Adventures in Swinging & Polyamory at mylifeontheswingset.com as an ebook, paperback, or audiobook and if you buy them from his sites, use promo code SWINGSET to save 10%!
Our 2017 LOTS THEME comes courtesy of Vlad Lucan and his track: Reverse!

---