Thu, 6 July 2017
SS 293: Long Distance Relationships & Keeping it Sexy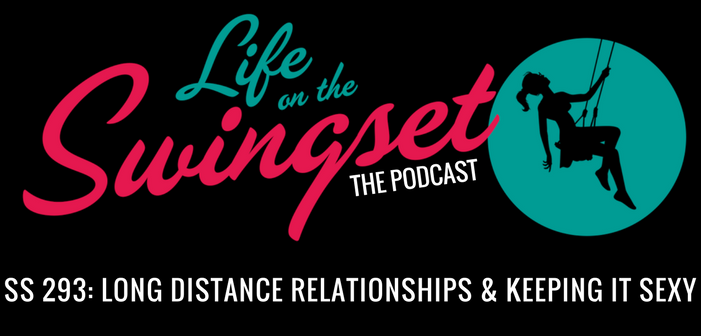 We have a habit here of finding people fascinating on social media and at conferences, and so often they seem to live so very far away... like many members of the Swingset. Mike Joseph, Cooper S. Beckett, Dr. Liz Powell, and Dylan Thomas get together to discuss the distance between all us and how we work around it.
Also, Daddy Dylan takes a little time to story tell about legacy recording medium.
Dr Liz discusses how to handle touch being a primary love language when partners are far away. The panel discusses the difference between talking over the phone vs. text, how to handle both granting emotional space and still giving comfort. Dylan mentions that long distance relationships can set people up for constant NRE and how it's hard to keep perspective when that happens.

Check out Swinger Safari, the mobile app that has privacy, filter, and geolocation features unlike anything the Swingset has used before! Download the app for free and use the promo code LOTSS to get your free 60 days!
You can support us while you buy great sex toys and products from our favorite online retailer SheVibe at lifeontheswingset.com/shevibe.
Help support Life on the Swingset continue to make podcasts, and put on live panels and shows into the future! Throw us a dollar (or a few) each time we release an episode on Patreon! Your support will also get you invited to a private chat system with other Swingsetters, and give you the opportunity to join live podcast recordings.
The best FREE thing you can do to support us is leave us a five-star review. Come to our review gateway, then copy and paste your review into iTunes or Stitcher!
Android Users: Download and review our Android App!
Leave us a comment on this post or at contact@lifeontheswingset.com or leave us a voicemail at 573-55-SWING (573-557-9464).
You can now pre-order Cooper's novel Approaching The Swingularity, his previous novel A Life Less Monogamous, or his memoir My Life on the Swingset: Adventures in Swinging & Polyamory as an ebook, paperback, or audiobook. Use promo code SWINGSET at coopersbeckett.com to save 10%.
Help Dylan edit by buying him something from his Amazon Wishlist!

Our 2017 THEME comes courtesy of Vlad Lucan and his track: Reverse!


---